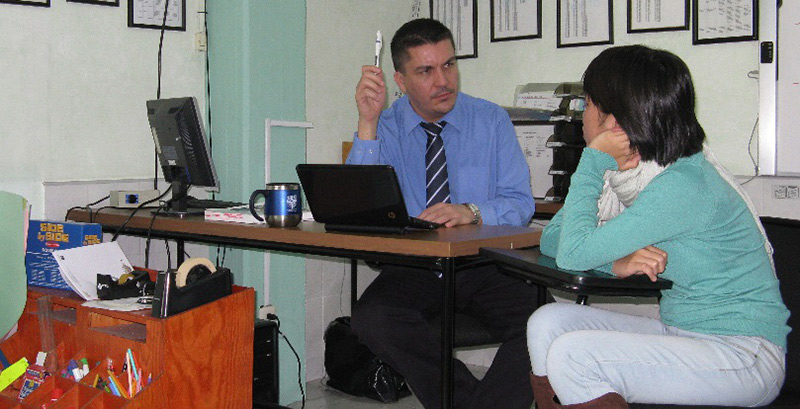 All Trainers are required to have had a successful career in teaching of at least five years and EFL Teacher Training experience for a minimum of three years, although most of them amply exceed this margin. All are active teachers, therefore fully aware of the classroom situations facing teachers today.
Maribel Barrera has a Bachelor's degree in Teaching English as a Foreign Language. She has been a teacher for more than ten years in some of the most prestigious schools and universities in Mexico. On several occasions, she has gained recognition as one of the best-evaluated teachers in her institution. Furthermore, she has been an important force in the initiation of the Online TEFL Training course. She currently resides in the Netherlands.
Sheila Corwin received her MA degree in TESOL from the Monterey Institute of International Studies and holds an accredited TESL certificate. She has worked as the academic director and principal trainer for a teacher training center in Florence, Italy and has taught English language courses at the university level in the state of Oaxaca, Mexico; and in private language schools in Florence, Italy and in her home state, California, USA.
Susan Gammage has a Master's Degree and TESOL certificate, with over 5 years experience in online and teleconference distance education courses. Her specialization is TOEFL and she has helped many students prepare for the IELTS. She has traveled to many countries and understands the unique needs of students immersed in new cultures. Her students describe her as a great teacher, a calming presence and completely dedicated to her students.
Mary Ann Moore. Mary Ann is originally from Michigan, USA and has a Master's Degree in TESOL from the University of Leicester. She obtained her Cambridge CELTA teaching certificate in 2006 and her Cambridge DELTA diploma for teaching English to Adults in 2008. She specializes in business English, ESP and has over 8 years experience in the ESL field. Mary Ann has lived abroad for over 13 years and has taught in Brazil, Hungary, England, and Germany. Her philosophy as a teacher and tutor is to foster and maintain an open, communicative and supportive environment to achieve the highest learning potential for each individual. In her free time she enjoys weight training, playing the guitar and hiking.